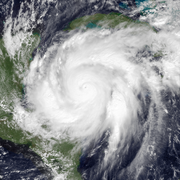 The Atlantic Basin, in terms of hurricane forecasting, covers the entire Atlantic Ocean. Tropical cyclones in this region of the world are known as hurricanes and are named by the National Hurricane Center in Miami, Florida, United States. Storms almost always form in the North Atlantic basin, but once every two or so years a subtropical or tropical cyclone forms in the South Atlantic, and potentially every 100 years (once a century) a hurricane of considerable strength forms in the South Atlantic. Tropical cyclones that form in the Atlantic that become extratropical and enter European waters may be classified as European windstorms and have advisories issued on them. Hurricanes in the Atlantic typically form in the period ranging from June to November.
Current Outlook
Edit
You can view the current outlook of activity in the Atlantic basin here.
Current systemsEdit
There are no current tropical systems at this time.
Is your computer not compatible with tabber? If so, click here.
Community content is available under
CC-BY-SA
unless otherwise noted.