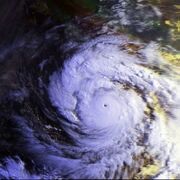 The Northeast Pacific Basin, in terms of hurricane forecasting, covers the northeastern portion of the Pacific Ocean, north of the Equator and east of 180 degrees longtitude. Tropical cyclones in this region of the world are known as "hurricanes" and are named by the National Hurricane Center in Miami, Florida, United States, and, if the storm forms between 140°W and 180°, they are considered to have formed in the Central Pacific and are named by the Central Pacific Hurricane Center in Honolulu, Hawaii, United States. Hurricanes in the East Pacific typically form in the period ranging from May to November.
Current Outlook
Edit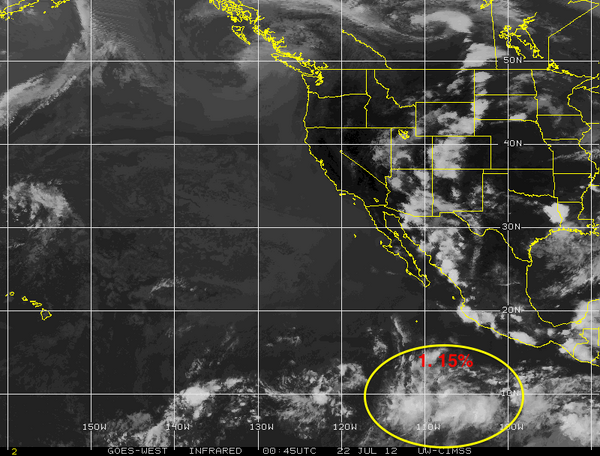 EAST PACIFIC TROPICAL CYCLONE OUTLOOK 
KIEWII-COBRASTRIKE GLOBAL ANALYTICAL CYCLONE CENTER
2300 UTC SUNDAY JULY 22 2012 

FOR THE NORTHEASTERN PACIFIC BASIN...EAST OF 180 DEGREES LONGITUDE 
AND NORTH OF 0 DEGREES LATITUDE.

...WITHIN 5 DAYS...
1. INVEST 90E...LOCATED APPROXIMATELY 840 MILES SOUTHWEST BY WEST 
OF ACAPULCO MEXICO HAS GOTTEN BETTER ORGANIZED THROUGHOUT THE DAY.
CONVECTION HAS GENERALLY INCREASED...BUT THE LOW LEVEL CIRCULATION
IS STILL NOT THAT WELL DEFINED. SEA SURFACE TEMPERATURES ARE ABOVE
AVERAGE...AND THE SHIPS GUIDANCE CONTINUES TO PREDICT LIGHT SHEAR 
OVER THE SYSTEM...CONDUCTIVE CONDITIONS FOR TROPICAL CYCLONE FORMATION.
BARRING ANY DECLINE IN THE ORGANIZATION OF THE SYSTEM...ADVISORIES 
WILL BE INITIATED TONIGHT ON THE INVEST. THIS SYSTEM HAS A HIGH CHANCE
...90 PERCENT...OF BECOMING A TROPICAL CYCLONE OVER THE 5 DAYS AS IT
MOVES WEST BY NORTH AT AROUND 12 MILES PER HOUR. 

ELSEWHERE...TROPICAL CYCLONES ARE NOT EXPECTED IN THE
NEXT WEEK AT THIS TIME. 


FORECASTER DARREN23

Current systemsEdit
Products have not been issued. See the [East Pacific Basin]]ww.hurricanes.gov National Hurricane Center] for more information.
Is your computer not compatible with tabber? If so, click here.
Community content is available under
CC-BY-SA
unless otherwise noted.