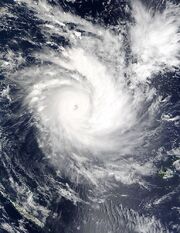 The South Pacific Basin, in terms of hurricane forecasting, covers an area of the southern Pacific, extending south of the equator from 160E to 120W, across the International Date Line. Tropical cyclones in this region of the world are known as "cyclones" and are named by the RSMC in Nadi, Fiji and the TCWC in Wellington, New Zealand. Cyclones in the South Pacific typically form in the period ranging from November to April.
Current Outlook
Edit
You can view the current outlook of activity in the South Pacific basin here.
Current systemsEdit
There are no current tropical systems at this time.
Is your computer not compatible with tabber? If so, click here.
Community content is available under
CC-BY-SA
unless otherwise noted.